How Paper Collages Are Made
Transforming discarded papers into large-scale works of art.
Collage is an ancient art technique nearly as old as the invention of paper, in which various materials (paper being the most popular) are combined on a surface to create an image. Although the techniques and materials have been around for ages, Geiman has endeavored to forge a new path with his unique style of layering hundreds, sometimes thousands, of papers within a finished work of art that often reads like a painting. The individual pieces of paper are each hand-cut from a collection of vintage papers which date back to the 1800s, and most are discarded treasures found in abandoned spaces in Geiman's travels across the U.S. Read on to see the story of a collage unfold from initial sketch to finished work of art.
First, a sketch is created — sometimes rendered in graphite, other times in acrylic or even as a digital mock-up. These initial sketches are often amorphous but, as the process unfolds, Geiman will add shape and detail until he arrives at a working sketch. This working sketch will then serve as the template for the full-scale collage.
Once prepared, the sketch is projected and sketched on a wood panel, Geiman's preferred substrate. This rendering provides a loose framework for the incredibly detailed paper cuts that follow. All collage sketches are kept for future archive and reference in the studio.

see available collages
Selecting the papers which will serve as the material for the physical collage is perhaps the most important part of the process, and what really sets Geiman's work apart from other collage artists. Geiman has spent decades acquiring and cataloging vintage papers from hundreds of sources and, as hinted at above, many of these vintage papers date back to the Pre-Civil War era.
Geiman's favorite activity as a child was exploring the abandoned farmsteads of Virginia's Shenandoah Valley, searching for objects to rescue from within the homes. It was during this time that he became enamored with the old newspapers, love letters, hand-written books and various wallpapers that he found. Many of the papers he uses today still come from those vacant spaces. The papers represent a lifetime of collecting; each is meticulously collaged and sorted by age and color in the studio.
shop collage artwork
Geiman's original paper collages are created on wood panels, each uniquely prepared for the artwork they will showcase. Geiman's techniques for readying these panels have evolved over time. In some works, subtle layers of vintage hymnal pages peek through a veneer of white paint; in others, acrylic paint is applied as though watercolor to create sweeping landscapes onto which collaged subjects are affixed.
Backgrounds are selected for each unique piece to best highlight their textures, colors and materials, and offer additional depth to explore in Geiman's collage artwork.
see the latest works
As the collage takes shape, Geiman utilizes the authentic colors found in the vintage papers to dictate the color palette of the artwork.
Each paper remains true to its original source color — Dolan does not paint or otherwise alter the papers that comprise the subjects of his work. The only paint he uses is relegated to the background and the occasional detail added during completion.
see more collages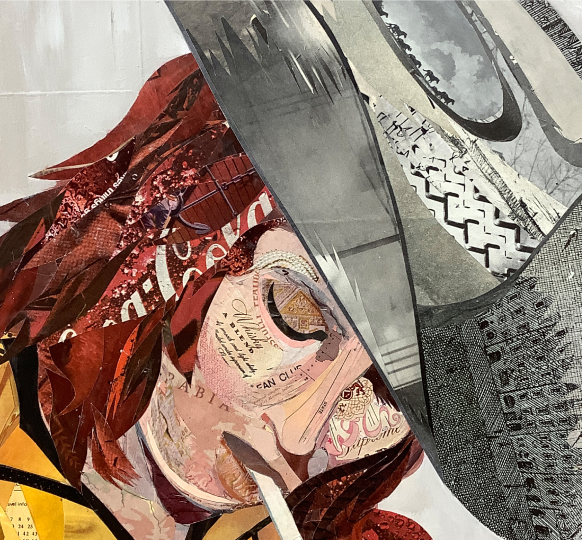 The search, selection and sorting of papers by color is a time-intensive part of the collage-making process. Each and every piece of paper is cut by hand with scissors — from the reflection of light in a figure's eye to the smallest beaded detail of their clothing.
Look closely and you will be sure to find some papers that tie into your own life's story.
find the perfect piece
Every collage tells a truly unique story, not only through its subject matter but also through its inception and use of reclaimed materials that have been given new life.
shop paper collages
shop paper collages
Turning Original Collages into Archival Prints
Dolan Geiman works with a local fine art printmaker to transform his original collages into archival prints.
The collage is converted into a precise digital file.
The artwork is photographed using a digital camera and glare-free lighting system. The digital file that is created is essentially the same size as the original, but delivered in pixels. All the minute details — down to the individual music notes in the background — are captured in the photo and translated without pixilation in each print.
To ensure accuracy of color, a proof is printed and compared to the original work.
Any color differences between the original and the proof are marked and, if necessary, adjustments are made to the digital file and another proof is printed. We do this process as many times as it takes until we are satisfied that the prints match the original as closely as possible.
Finally, we are ready to run prints!
The prints we produce are called archival pigment prints, also known as giclée. They are printed on acid-free archival paper using premium Epson inks. These are true fine art prints produced by a professional printmaker in Denver, meticulously cataloged to ensure every print in the limited edition matches.
Archival prints are produced in limited editions.
We print 200 for the smallest size, 100 for medium, and 200 for the largest size offering. Once sold out, the edition is closed.
shop paper prints
About Dolan Geiman
Based in Denver, Colorado, Dolan Geiman is a contemporary collage artist specializing in the reuse of found materials and objects, including vintage paper, reclaimed wood, and salvaged metal, with stories worth telling. He carefully curates, cuts, and combines these diverse collage materials with other artistic techniques including painting, screenprinting, and sculpture to create original modern artworks — including paper collages, metal wall art sculptures, faux taxidermy, 3D sculptures, and more. Dolan Geiman's original mixed media art collages are highly textured and intricately detailed, inspired by the great outdoors, the flora and fauna of the natural world, the rich history of the United States, and the influence of classic collage artists that came before. Explore his online shop for ready-to-ship originals, paper prints, canvas prints, and gift cards. Learn more via this Q&A with the artist.