Framed & Unframed Print Details
Many original Dolan Geiman paper collages are translated into high-quality art reproductions on archival paper. These vibrant pigment art prints are available in a variety of sizes and can be ordered framed or unframed.
Unframed Print Basics
---
Poster vs. Print
Prints are produced by a professional printmaker here in Denver, CO. These are not posters, but archival pigment prints, also known as giclée prints. The Epson ink we use is archival pigment and the paper is an acid-free matte variety.
Image vs. Paper Size
All print listings include the image size and the paper size in the Description section. Image size refers to the dimensions of the artwork; paper size refers to the outside dimensions of the sheet the image is printed on. Our prints are produced with a .5"-1" white border around the image.
Open vs. Limited Edition
All prints are produced in limited edition.
The edition size for 16 x 20 (and other small editions) is 200, 24 x 30 (and other medium editions) 100, and 32 x 40 (and other large editions) 200. Once sold out, the edition is closed.

Look for the Less Than 15 badge for prints with soon-to-sell-out editions. If we produce a custom-size print, the print is numbered within the edition closest in size.
Signature
The smallest size within any print edition is hand-signed and numbered on the front inside the image area. Our fine art printer digitally signs and ships the medium and larger prints for any given edition.

If you prefer it's hand-signed, simply note this preference in the Add Notes field in your cart and allow 5-7 extra business days for fulfillment.
From Collage to Print
Prints are reproductions of original paper-on-wood collages, crafted atop a base layer of vintage sheet music and paint. Varying levels of detail from these sheets can show through in the finished work, which translates to the print image as well. If you see marks, color splotches, spots or similar in the background of your print, you are likely seeing the vintage paper peeking through; fear not, your print is in good shape! Find out how collage backgrounds are created here.
Fulfillment
All unframed prints are rolled inside a sturdy cardboard tube + triangular mailer for shipment via UPS Ground. Average fulfillment time is 1-3 business days + transit time. Unframed print orders may be picked up from our Denver (Englewood) studio. Please proceed with the order online, note this preference in the Add Notes field in your cart, and shipping charges will be refunded upon pick-up.
Framed Print Basics
---
Standard Framing Materials
We partner with a third-party framer (with facilities in Ohio and California) to offer professional matting & framing of our archival prints. Each print is custom framed, by hand, using frames produced domestically here in the USA. Standard framing includes the following:
● Wood frame in black, natural, or dark walnut
● Protective paperback finish
● UV-shielding Plexiglas | protects from 82%-85% of UV rays and 92% of light transmission
● Wall bumpers
● 3" acid-free white mat with bevel edge (2.5" for 11 x 14 prints)
● Archival acid-free foam core backing (small prints are hinge mounted; large prints are dry mounted)
● Every frame is custom made to order
Framing Upgrades
● Standard Plexi->Non-Glare, 99% UV-Plexi or Museum Plexi
● Alt Frame Colors: White or Light Walnut
● Black Label Framing (think the crème de la crème of finishes) for prints larger than 32 x 40
● Custom mat sizes (or unmatted)

We are happy to discuss any of these upgrades. Contact us for help with a special order.
Fulfillment
All framed prints ship via FedEx from our framer's facility in California or Ohio. Average fulfillment time is 4 weeks + transit time. Framed print orders may not be picked up from our studio. Each framed print ships separately in its own carton with a unique tracking number.
Finish Sizes of Framed Prints
For prints larger than 32x40 please contact us.
All dimensions are in inches.
FAQs
---
Q: Can I order my print with a salvaged metal frame?
A: No, these frames are handmade from scarce materials and available exclusively with our original paper collages.
Q: Can I pick up my framed print from your studio?
A: No, all framed print orders ship from our framer's facility and, to expedite this process, we prefer shipment to your home or FedEx location for pick-up.
Q: Can I order a framed print in the 32 x 56 scale?
A: We offer these large, horizontal prints only in canvas. It's a superior finish and more durable in transit than oversized framed prints. Contact us to special order either the 32 x 56 unframed print or canvas print.
Q: Do you offer other print sizes?
A: Yes, contact us for help with a special order. We do not offer sizes smaller than 16 x 20.
Q: The print size I want is not available via the Size menu. Will you have more?
A: No, each print is signed and numbered in a limited edition. Once we have produced and sold all prints in that edition, the size/edition is closed meaning we will no longer be producing the print size. Look for "sold out; edition closed" under the Description section.
Q: The frame color I want says sold out. Will you have more?
A: Yes, eventually. Due to moulding shortages, we have to remove the black/natural/frame option from our website on occasion. Complete the Email When Available form for an email notification when back in stock.
Q: How do I purchase the print hanger shown on the print listings?
A: The walnut print hangers are available for purchase via Well Made. Mention "Dolan Geiman" at checkout.
If your question has not been addressed above, please don't hesitate to contact us.
The Collage to Print Process
---
Photographed and Printed in Denver, CO
Dolan Geiman works with a local fine art printmaker to transform his original collages into archival prints. Learn how collages are converted into fine art reproductions.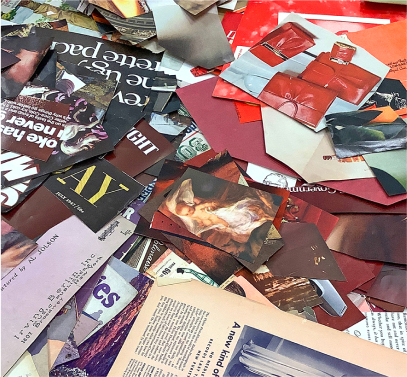 Learn More
SHOP PAPER PRINTS